Heirloom sarees are a prized possession in most women's wardrobes, with some being passed down for generations and some you might be meaning to keep for the next generations yourself. Taking care of these sarees is slightly tricky, but not to worry, we at Binks are here to help you increase the longevity of your heirloom sarees.
Chiffons
Chiffons are possibly the most difficult material of sarees to take care of. They are very delicate, tear easily and must be worn with utmost care. While draping a chiffon saree, make sure you use a little wad of cotton before inserting safety pins to ensure your saree doesn't tear where the pin holds. If your chiffon is heavily embellished, do not store them on hangers for extended periods as the weight might disfigure your saree.
Tissue and organza sarees
Much like chiffons, tissue and organza sarees also tear easily. It is best to avoid safety pins as much as possible while draping them. In case you need to use a safety pin, use the tip mentioned above. Tissue and organza sarees absolutely cannot be washed, so only dry-clean them with a trusted dry cleaner, occasionally.
Silk sarees
Silk sarees are some of the most expensive sarees you can own and must be treated with care and respect. While silk sarees are sturdy and more durable than most other kinds of sarees, it is important to store them separately wrapped in a muslin cloth and refold them every month to avoid tearing and/or fading at the crease. Do not spray water while ironing your silk sarees to avoid water stains and iron only on low to medium heat. For more tips on silk saree maintenance, check out this blog post.
Crepe sarees
Crepe sarees are by and far the easiest to maintain, making them the perfect investment for anyone new to building a saree arsenal. It's best to avoid washing them too often and spot cleaning/ handwashing when necessary. Just refold your sarees on the hanger to avoid harsh folding creases.
Cotton sarees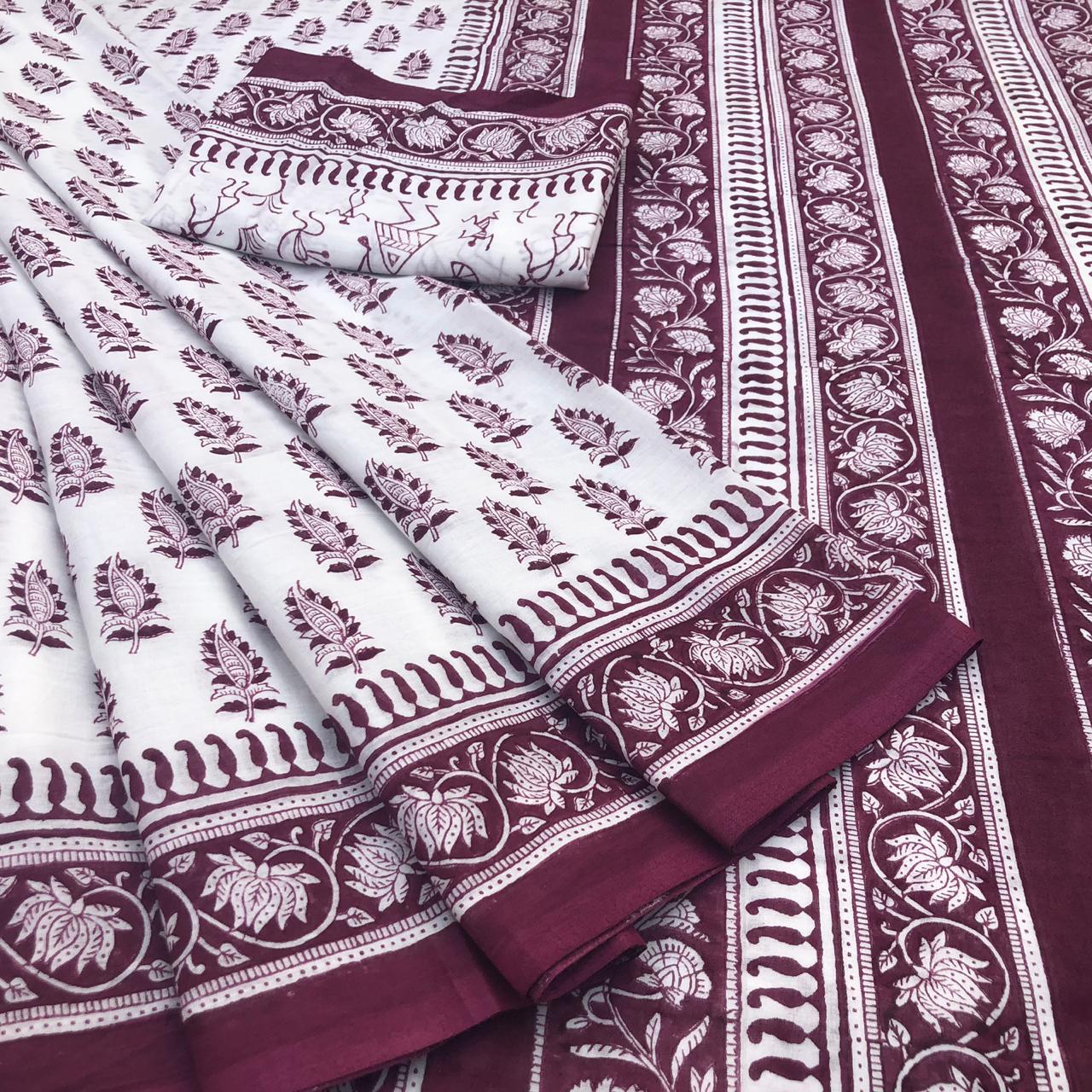 Cotton sarees are typically not ones that can stand the test of time. While washing your cotton sarees, please remember that unless they are handloom, the dark colours might bleed. They can be hand washed with a mild detergent or shampoo to protect the colours. While starch reduces the durability of the saree, the whole beauty of a cotton saree is in its crispness, so starch them carefully. Rolling is a great way to remove creases from a cotton saree without compromising colour or durability.
Here are some tips that are fundamental no matter what the material of your saree is:
Do not spray perfumes or fragrances directly onto your sarees as they may leave stains that are hard to remove.
Drape your saree in a muslin cloth when storing them or cotton saree bags (buy here) to avoid dust from gathering while also allowing your sarees to breathe.
Air your sarees out without putting them in direct sunlight periodically to avoid moisture damage. Direct sunlight can make the colours fade.
Never wring your sarees while washing them or otherwise.
Do not leave them on hangers for too long and refold them every month or two to avoid creases and tears.
Always iron your sarees on low to medium heat, with a thin cotton cloth between the iron and the saree fabric to avoid damage.
Use silicone packets in your cupboard to reduce moisture.
Put dried neem leaves in the cupboard but away from your sarees to protect them from pests. They are a great alternative to naphthalene balls that can make your sarees smell.
Now that you know exactly what to do to maintain your heirloom sarees, don't forget to wear them with tailor-made, stunning blouses from Binks to make them stand out even more!